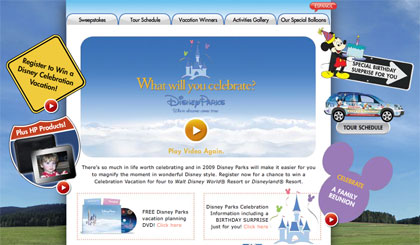 Disney Parks has announced their new promotional campaign for 2009. The theme is 'Celebrations' and the tag line is "What Will You Celebrate?" The goal — get you and your family to book a trip to Disneyland or Walt Disney World to celebrate an event or occasion together.
The campaign website (www.disneyparkscelebrations.com – Note there's a video that starts automatically on this page with no way to pause or mute it. Bad form on Disney's part.) is where you'll find a contest where you can win a Disney Vacation, learn about fun ways to celebrate milestones in your life, and find out the schedule for a new promotional tour. Also highlighted are tools to plan your vacation with. Additionally, they're promoting Disney Environmentality with a message not to release your 'Mickey Balloon' into the air. The biggest news would seem to be that you can register to get free admission to a Disney Theme Park on your birthday in 2009 (you must register first, and there are other treats available if you already have admission).
Without even reading the Disney Press Release on this. It would appear that Disney is hoping to capitalize on what is already a major trend in their customer base. Disney has known for years that since families tend to save for years to make the trip to the parks, they often do it around a special occasion. A few years ago the campaign was called "Magical Gatherings" and it was essentially the same thing where Disney would organize special events for you based on the occasion you were celebrating. Finally, the whole campaign ties into a vacation planning package that will walk you through hotel, dinner, and event registrations. It was obviously successful enough they want to try it again.
I hope this is a successful campaign for Disney and brings in hordes of guests. However, my initial response is to be a little underwhelmed. Disney is probably facing a significant drop in attendance and spending at its domestic parks for at least the next 12-18 months and this all they came up with to bolster the numbers?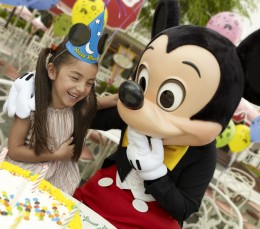 What happened to the great promotions of the past where Parks, Films, and Parades were all tied together. Mickey Mania, Party Gras, The Lion King Celebration? Where's the exciting Tagline? In the past we had "Where the Adventure Begins," "Where the Magic Never Stops," and "Where Dreams Come True." Where we should have inspiration, instead we get a question. Where's the announcement of the new parades, shows, and attractions that will encourage repeat visitors to return and send prospective new visitors to travel agencies to book. Instead we get a 'Street Party'. What is that?
What disturbs me most about this promotion is how Disney is equating themselves with the local Chuck-e-Cheese. Little Johnny's having his Birthday? Where do we want to celebrate? How about Chuck-e-Cheese? Or maybe Disneyland? That's not an effective way to get people to drop their "staycation" and travel to Anaheim/Orlando instead. You have to offer excitement and value.
Disney isn't in the same category as local options, and they shouldn't act like it either. I'm not saying Disney should not offer Birthday and other Celebrations. But it should be part of the whole package, not the cornerstone of the big promotion for the year.
Okay. It's the 3rd year in a row of less than exciting promotions for Disney Parks. So let chalk this one up to being an 'off-year'. Due to the soft economy Disney isn't expecting much to happen this year. They've planned no new shows, no new parades, and only one new attraction (American Idol at DHS) for 2009. Perhaps there is some fiscal merit to not going overboard with a major promotion. But then again, maybe they could have done something that would knock your socks off.
A promotional video and the full press release is below the cut: