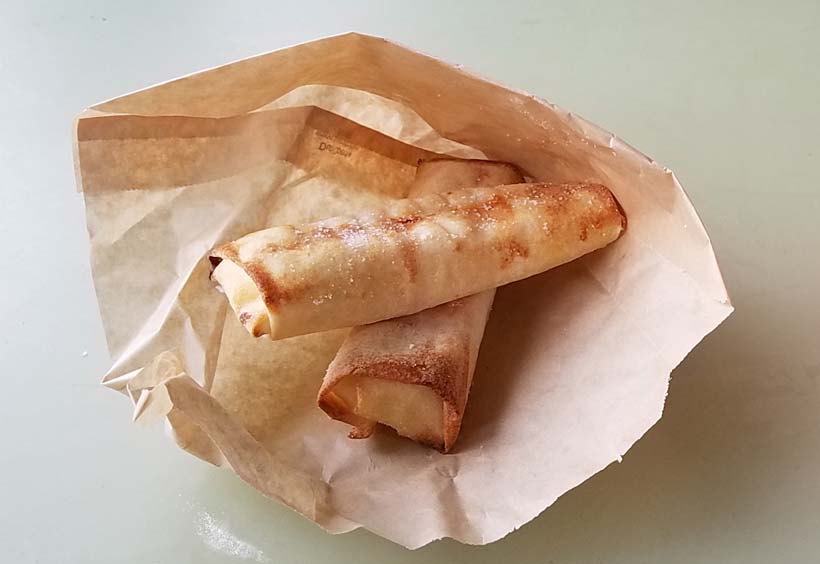 When you travel to Pandora – the World of Avatar the extra-ordinary otherworldly experiences don't end with the attractions, Disney's chefs have created corresponding culinary treats that will transport your tastebuds to Pandora too. One of our favorite treats were the very velvety treats the locals call "Pongu Lumpia" but you will probably recognize as a Pineapple Cream Cheese Spring Roll).
Available at the Pongo Pongo stand outside the Windtraders shop, the silky treats are indeed wrapped in spring roll wrapper, but Disney's culinary team put a sweet spin on their version stuffing it with cream cheese and diced pineapple instead of the typical savory vegetable and meat mix.
This recipe has been adapted so you can make it at home.
Pongu Lumpia (Pineapple Cream Cheese Spring Rolls)
Pongu Pongu, Pandora—The World of Avatar
Disney's Animal Kingdom
Makes 10 Lumpia
10 spring roll wrappers
1 (8 ounce) package cream cheese, room temperature
2 cups diced fresh pineapple
1/2 cup sugar
Oil for frying
1. Use parchment paper or a silicone baking mat to line a baking sheet.
2. Follow instructions to separate spring roll wrappers using a damp towel to keep them from drying
3. Using softened cream cheese divide into 10 equal pieces.
4. Place one spring roll wrapper on a cutting board. Drop one portion of cream cheese in the center of the spring roll and spread evenly on wrapper, leaving a 3/4-inch border around the edges. Add 3 tablespoons of diced pineapple and sprinkle with 1/2 teaspoon of sugar.
5. Fold the wrapper as you would a spring roll or burrito. Use water to moisten edge and seal the roll.
6. Repeat with remaining spring roll wrappers.
7. Place spring rolls on prepared baking sheet and freeze for 4 hours or overnight.
8. Preheat 1 inch of oil in a frying pan to 350°F. Fry lumpia for 3 minutes on each side, until golden brown. Drain on paper towels.
9. Roll in remaining sugar before serving.
These delicious treats are not to be missed when you visit Pandora and will make a great treat for guests at your home ans you're telling them all about your trip.