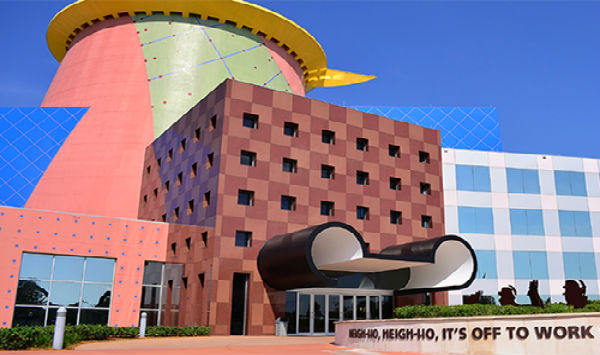 If you've ever driven around what is now Disney Springs at Walt Disney World, you may have noticed a brightly colored building with unique architecture and a tall circular column across the street.
This building is Team Disney, and it opened on Disney property 25 years ago on June 3, 1991. It functions as the administrative headquarters of Walt Disney World, housing the Finance, Accounting, Business Insight & Improvement, and Legal departments.
The architect behind the distinctive look of Team Disney is Arata Isozaki, who is world-renowned for his modernist style and techniques. At the heart of the building, in that tall circular column, is an eight-story fully functioning sundial, which is also the world's largest. It sits in a glass-enclosed atrium just beyond the entrance to the building.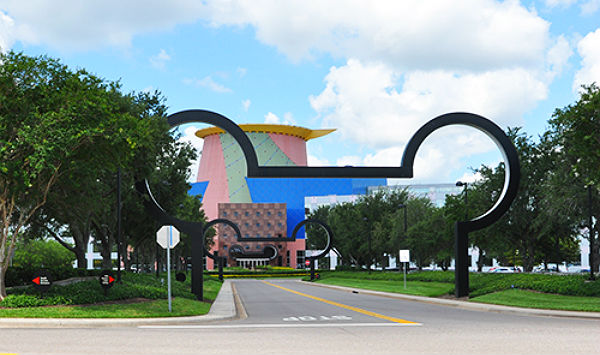 And of course, it wouldn't be a Disney building without the presence of Mickey ears in the form of archways. There are two over the main entrance driveway, and another over the front entrance itself. Also at that entrance are large silhouettes of the dwarves from Snow White and the Seven Dwarfs, along with the classic lyrics "Heigh-ho, Heigh-ho, It's off to work we go."
With a recent interior refresh, Team Disney will be continue to be a colorful and functional part of Walt Disney World, and reach many more milestones.
Have you seen the building on your Walt Disney World visits?