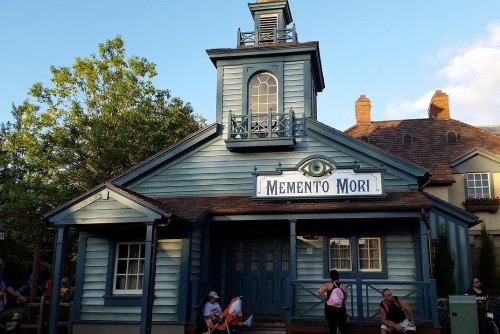 Memento Mori, the new Haunted Mansion themed store, took over the old Yankee Trader location. It just opened on Monday and I swung by to take some pictures and video.
Since the old Gypsy Cart got relocated by Rapunzel's Tower, the kitchen themed merchandise had been slowly shrinking to make way for Haunted Mansion merchandise anyway. This switch just made it official.
It also gave Disney's talented bunch of merchandise designers the chance to try a few new things. For instance, they invented a new crest fo the Haunted Mansion. It adorns some of the new line of merchandise. They also took many of the iconic elements of the ride and smartly incorporated it into various pieces. Overall I'm impressed with the product mix.
I think Disney has finally found its answer for Harry Potter, and the evidence has been hiding in plain site for nearly 45 years. Mememto Mori had a line through the whole evening on Monday. The store was stocked, and constantly restocked, with beautiful new merchandise and some old favorites. Nearly everyone left with something in their hands. Reminded me a lot of the atmosphere in the stores inside Universal's Wizarding World of Harry Potter. Disney might seriously want to reconsider shelving the reboot of the Haunted Mansion movie franchise.
The store is really an attraction in its own right. With ghostly knick-nacks on every shelf, some spooky decor, and a photo booth that promises to bring out the ghoul in anyone, Memento Mori is a must stop on your next visit to the Magic Kingdom.
If you want to get your hands on some of it without making your on trip to Memento Mori, the Disney Parks Authentic online store has a selection available.