It's been no secret, with hints coming even from the upper echelons of Burbank, that Disney is looking to capitalize on their acquisition of the Star Wars franchise by expanding its presence in the theme parks. Right now that is essentially limited to a motion simulator attraction or two, a jedi-training school mini-show, and the 5 weekends that compose Star Wars Weekends out at Disney's Hollywood Studios.
For the last few years Rumors, including some on this site, have ranged from we're getting a new attraction to perhaps a whole new theme park dedicated to Lucasfilm properties. Tea leaves were read, with the smallest of construction projects taken as a sign big changes were coming. But nothing was ever official, just obvious.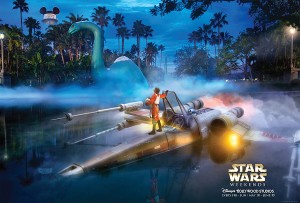 So it is a relief to hear Disney CEO Bob Iger finally speak out on today's results call saying there will be a "far greater Star Wars presence in our parks." Exactly what it is, will be announced in 2015. That's the year of the first new Star Wars moving in a decade, which will be great synergy for the parks.
This means we can probably look forward to plenty of speculation, leaks, and rumor-mongering over the next few months. Anaheim is hosting the Star Wars Celebration in April of 2015 and there is also a D23 Expo in 2015 just a little over a year from now. Either could be the perfect time to make the big announcement.
That said, we may not have to wait until 2015 for the parks to start work on the expansion. Construction at Disney often starts ahead of project announcements (although not always it was almost a full two years after Avatar was announced before they finally closed Camp Minnie Mickey at Disney's Animal Kingdom)
My big hope is they give Imagineering and the folks from Lucasfilm the budget they need to build in an environment as immersive and story rich as the new Diagon Alley at Universal Studios Orlando. Disney needs to fix Disney's Hollywood Studios like it did DCA and they need an answer to Harry Potter here in Orlando just to show Disney is still at the top of the game. A huge Star Wars expansion of DHS would be just the ticket.
So the big question is, what would you like to see in an expanded Star Wars presence in the parks?