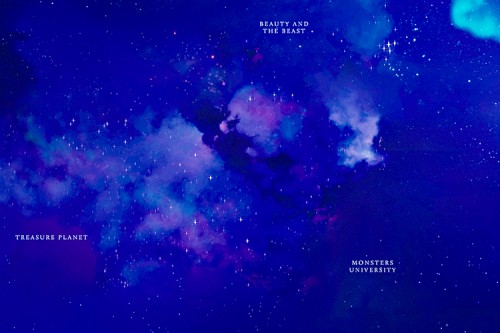 If you think back through all the Disney and Pixar movies you've seen over your life, you'll realize that stars and the night sky often play a big role. UK Artist Marianne Hanoun saw this and made it her challenge to collect every star from every Disney and Pixar classic animated feature-length film into one giant image. The whole process took almost three years, but now you can see her final work called "The Disney Universe"


click to see the full zoomable image.
Hanoun painstakingly collected every star from every Disney and Pixar animated classic feature-length film and brought them together to create The Disney Universe. For the first time ever, stars from 'Pinocchio' (1940) will sit next to stars from 'Frozen' (2013). The process saw her collect — ultimately amassing just under 3000 individual screen grabs — cut, and blend stars from every film. The result is a four metre-long metallic print. It acts as a celebration of Disney's animation history and legacy, and their belief that 'When You Wish Upon A Star…Your Dreams Come True'.
When she was younger, all Marianne wanted to do was work for Disney. So she decided to give it a shot and make her childhood dream come true by creating something that celebrates Disney's history and legacy.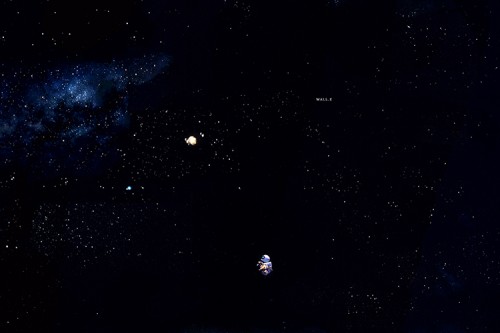 "This has been the largest project I have ever undertaken," said Hanoun. "It was not without its challenges. After having the idea in my First Year, I knew I had to have it finished before graduating, and for other Disney fans to see it and enjoy it. Faith, trust and Pixie Dust also helped me through."
Thanks to Hanoun for sharing her finished work with The Disney Blog. Below is a little more on how the idea came to be and the process she took to make the image in a video from Hanoun
That's a world I could easily get lost in. I think I want my whole room painted in The Disney Universe. I wonder if I can get it printed out on wallpaper. What do you think?