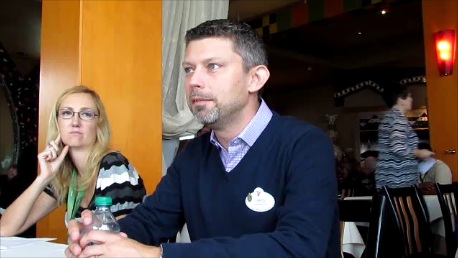 As part of the New Fantasyland grand opening event, I had the opportunity to interview Imagineer Chris Beatty who was creative director for the expansion. During the roundtable discussion Beatty explained the process of designing a new attraction with a focus on the Seven Dwarfs Mine Train, the close working relationship WDI shares with Feature Animation to help accurately portraying characters, and for good measure, his favorite Disney character. Spoiler: It's Hades. I don't know about you, but I'd love to see what Beatty could do with an attraction based on Hades from Hercules.
Finally, we learn that next year there might be snow in New Fantasyland. Snow plays such an important role in Beauty and the Beast story, it would be great to see how Disney incorporates it at the Magic Kingdom.
Thank you to Chris Beatty for sharing some time with us! We know his work isn't quite done yet. The Princess meet and greet will open next year and the roller coaster in 2014.
Previously: New Fantasyland opens with two ceremonys, major star power.