You've read one Pixar Blu-ray review, you've read them all. And they read like thesaurus entries for amazing, awesome, unbelievable, and… incredible!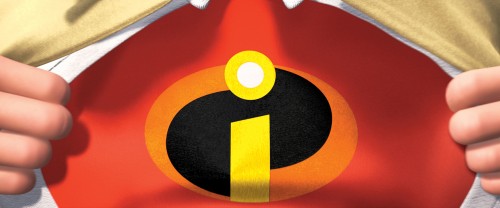 The Incredibles is exactly that in its Blu-ray high definition debut. The 1080p picture and 5.1 DTS-HD Master Audio knocked my socks off. That's really all I can say.
Included short films Boundin' and Jack Jack Attack also look stunningly crisp, and deleted scenes are now in HD as well. Every bit of HD content on the two Blu-ray discs is simply flawless.
Bonus features, on the other hand, aren't as impressive. Besides the "Incredibles Revisited" roundtable, one "Studio Story" and one "Paths to Pixar" are the biggest features. The "New Nomanisan Island Redevelopment Plan" is funny, but the "interactive" feature feels very stop-and-go.
But I don't think anybody will add this title to their collection solely for the extras. Uh-uh. This is about experiencing the film; and right now, the only better way to experience it would be to hitch a ride in a DeLorean and go back to 2004 to see it on the big screen.
The Incredibles Blu-ray goes on sale April 12—that's next Tuesday—in a 4-disc combo pack that also includes the film on DVD (plus shorts) and digital copy.
Read more from Mike at The Pixar Blog.
Previously: Brave – New concept art released.