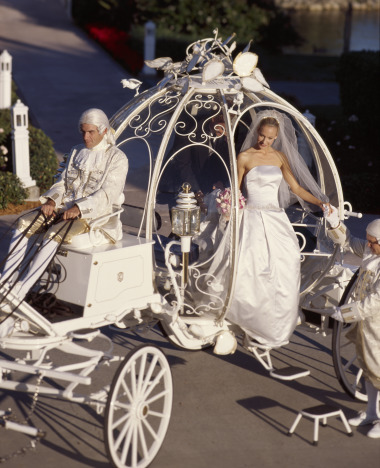 Did your wedding have a Disney theme or take place at a Disney theme park?  If so, I'm looking for couples who are willing to share photos of their happy day and answer a few questions for a new feature coming to The Disney Blog. Interested? Drop me a line.
In the meantime follow below the jump for some crazy facts from Disney's Fairy Tale Wedding program at Walt Disney World:

More than 1,600 couples tie the knot each year at Walt Disney World Resort. Since September 1991, Disney's Fairy Tale Weddings has hosted some 30,000 weddings.
Couples have traveled from every state in America and from international locations such as Japan, Saudi Arabia, United Kingdom, Germany and the Netherlands to get married at Walt Disney World Resort.
Some brides and grooms choose non-traditional methods of transportation to arrive to the ceremony — such as on horseback, Cinderella's glass coach, a horse-drawn carriage or vintage automobile.
According to wedding industry experts, Walt Disney World Resort is recognized as a top-ranked honeymoon destination and destination weddings venue.
The sky is the limit for themed weddings — from an enchanting Cinderella-like wedding in Magic Kingdom or a Hollywood extravaganza in Disney's Hollywood Studios to international-themed nuptials at Epcot or a safari-themed reception at Disney's Animal Kingdom.
The Wedding Pavilion can host up to six weddings per day, and up to 12 weddings can occur each day at various locations on Walt Disney World property.
Wedding prices begin at $4,500 for an Escape Wedding Collection gathering for two. Wishes Wedding Collection ceremonies start at $10,000 for 20 guests or more. An average wedding at Disney is approximately $20,000 for 50 people.
The first wedding at Disney's Wedding Pavilion was televised live June 18, 1995, on Lifetime Television as part of its "Weddings of a Lifetime" series.
A Magic Kingdom wedding for the 10th anniversary of "The Oprah Winfrey Show" was a star-studded affair, with performances by Celine Dion, Peabo Bryson and Regina Belle.
At least twice during the 15-year history of the Walt Disney World Marathon, couples have stopped mid-race to get married in front of Cinderella Castle in Magic Kingdom.
A couple took the plunge, literally, on The Twilight Zone™ Tower of Terror at Disney's Hollywood Studios while they tied the knot.