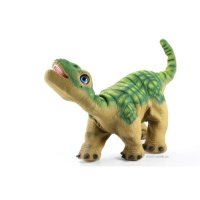 Back in 2005 Walt Disney Imagineering unleashed upon the world a life-size autonomous audio-animatronic in the form of Lucky The Dinosaur. Lucky interacted with his environment, answered questions, even signed his famous clover-leaf autograph with a pen in his mouth. Guests at California Adventure and Disney's California Adventure who were lucky enough to encounter Lucky got an experience they'd never forget.
Now you can have your own miniature dinosaur pet in the form of a Pleo Dinosaur
. I've been hearing about this amazing life form for about six months and it's finally available to the public today. Its sophisticated sensory system of 40 devices enable sight, touch, and autonomous movement just like WDI's Lucky, but smaller.
To see what I mean check out this video of the lovable Pleo in action. (click here or look below the fold)
The Pleo is a one-week-old dinosaur that will quickly grow to become one of the most fun and exciting members of your family. This amazing robotic marvel not only moves organically, explores its environment on its own, and interacts with you, but it also expresses emotions based on its life experiences.
Each Pleo begins life as a newly hatched baby Camarasaurus, but that is
where predictability ends and individuality begins. He develops his own
personality, moods and habits, all shaped by the time he spends with
you. The Pleo dinosaur has three stages of development: hatchling,
infant and juvenile. Pleo dinosaur has different emotions: happy,
curious, playful, lively, scared, surprised; even sad and vexed. Pleo
dinosaur has different drives: senses, drives and communication.
To tie this back to Disney again, this seems like a natural product to showcase in Epcot's Innoventions attraction halls. Hopefully we'll all get a chance to see it in action.