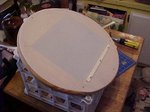 Want to learn how to build your own Animator's Desk? Then check out this post at Animation Un-Loc'd where you can find instructions on how to do it for less than $40 in parts.
I hear students over and over again saying I will do my animation just as soon as I can afford to buy X piece of equipment. Otto Messmer never said that. Grim Natwick never said that. And Ub Iwerks sure as hell never said that.
So now you have no excuse for not becoming the next Brad Bird or Ollie Johnson.